Important Note, Consultants' Camp 2020 and 2021 have been postponed to 2022. Stay tuned for details…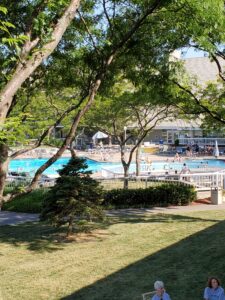 This page contains details about where and when Camp 2020 will be held, and how to get there. If you can't make it this year, we haven't yet set a date for 2021, but do try to keep your calendar open for the last week in August and the first week in September 2021. Camp 2021 will likely be held during one of those weeks.
Where
Camp 2020 will be held at Maumee Bay Lodge and Conference Center, 1400 State Park Road, Oregon, OH 43616, USA.  Maumee Bay Lodge is about 30 minutes East of Toledo, Ohio by car, and about one hour southeast of Detroit International Airport.   The Lodge phone number is (419) 836-1466.  Link to the Lodge website:
https://www.maumeebaylodge.com/
How to get there
Maumee Bay Lodge, in Oregon, Ohio, is about 30 miles east by car from Toledo Express Airport, 56 miles south by car from Detroit International Airport, or 99 miles west by car from Cleveland International Airport. These times can vary somewhat depending on traffic conditions.
There are taxi and shuttle services from the Detroit Metropolitan Airport. The Detroit airport Web site also lists the car rental companies that service the Detroit Metropolitan Airport. Be aware that September 7 is a national holiday (Labor Day). If you plan to leave on September 3, some transportation services might not be available. Check with your carrier.
Campers often share rides from the local airport to the site of Camp. After you register, you'll receive a welcome packet with information about how to offer rides and ask for rides.
When
Camp 2020 begins with a welcoming dinner at 6:00 PM Eastern Time, Sunday, August 30, 2020. Camp 2020 ends at 12:00 Noon Eastern Time, Saturday, September 5, 2018. Eastern time is Ohio's time zone.
New Campers are encouraged to attend a "warm-up" session on Sunday, August 30 from 2:00 PM to 5:00 PM.
In years past, a small group of Campers has arrived a day early to spend that evening together. It's informal and unplanned, but it gives you an extra day to get oriented and renew friendships, or make new ones.htt
Consultants' Camp usually convenes during the last week of August or first week of September, but it can vary. Watch this space for future dates.