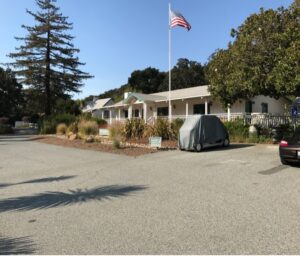 Where 
How to get there

Los Laureles Lodge, in Carmel Valley, California, is about 12.5 miles Southeast (20 minutes by car) from Monterey Regional Airport (MRY), 72 miles Southeast (1 hour 41 minutes by car) from San Jose International Airport (SJC), or 111 miles South-Southeast (2 hours by car) from San Francisco International Airport (SFO). These times can vary dramatically depending on traffic conditions. Directions:
Campers often share rides from the local airport to the site of Camp. After you register, you'll receive a welcome packet with information about how to offer rides and ask for rides.
When
Camp 2023 begins with a welcoming dinner at 6:00 PM Pacific Time, Sunday, September 3, 2023. Camp 2023 ends at 12:00 Noon Pacific Time, Saturday, September 9, 2023.
New Campers are encouraged to attend a "warm-up" session on Sunday, September 3 from 2:00 PM to 5:00 PM.
In years past, a small group of Campers has arrived a day early to spend that evening together. It's informal and unplanned, but it gives you an extra day to get oriented and renew friendships, or make new ones.htt
Sunday, September 3th, 2023 through Saturday, September 9th, 2023